So, I did it. I killed someone today. My victim in Sock Wars just received her Socks of Doom from me and she is now officially DEAD. Here is the weapon I used.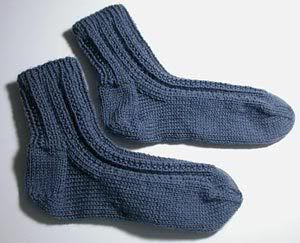 Socks of Doom, made with Cleckheaton Country 8-ply, in size 9.5
I tried to lessen the pain of my victim's demise by sending her some hematite, crystal, and silver stitch markers that I made. Beading was my previous hobby, but it has been sorely neglected ever since I was introduced to knitting. If you think my yarn stash is crazy, you should see my bead stash. ;)
Before taking her last breath, my victim (in Georgia) was able to send off her finished socks to kill her victim (in England), so I will now be responsible for killing my victim's victim's victim (try to stay with me here). My victim's victim will not be officially dead until she receives her socks in the mail, and in the meantime she will be knitting socks to kill someone in Canada. However, since a little birdie told me that she hasn't started yet, I'm thinking she won't finish them before she gets her package of doom. So, all I can do is sit here and wait for my victim's victim in England to die and mail me her uncompleted socks.
With all the international shipping this could take a while, which is fine with me since my stupid right index finger STILL hurts. I am trying not to knit until it is better, but that is sooooo hard. [I'm sure you can relate.] In the meantime, I may be killed by my designated assassin who is in Utah. However, I emailed her on Saturday and at that point she had not started knitting and seemed rather unaware of the rules. So, who knows. What a confusing, but fun, game this this is turning out to be.