As I mentioned in my last post, making the Saving Grace headband has inspired me to look through my pattern books for other potential lace patterns that would work well with a worsted weight yarn for a quick headband. This turned out to be a bit more difficult than I anticipated. The use of worsted weight yarn meant that I needed to keep the pattern under 14 stitches so the headband did not become uncomfortably wide. I swatched a few options, but the headband below is the most successful one so far.
This headband is based on the Arrowhead Lace pattern stitch in Barbara Walker's A Treasury of Knitting Patterns. It has a tendency to poof up in the middle (I didn't bother to block it), but it seems to flatten out when worn. Here's the pattern.
Arrowhead Lace Headband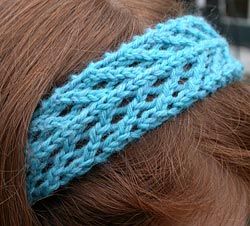 YARN
Cascade 220 [100% wool],
color: 9455 (turquoise heather)
NEEDLES
US 7
GAUGE
approximately 5sts/inch
DIRECTIONS
Cast on 11 sts.
Follow the arrowhead lace pattern (using chart or directions below) until the headband is approximately 16 inches long (or long enough to fit around your head when slightly stretched). Bind off and seam ends together.
Arrowhead Lace Chart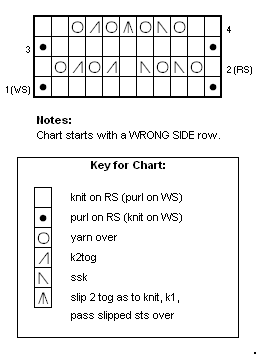 Arrowhead Lace Directions
Row 1 (WS):k1, p9, k1.
Row 2 (RS):k1, yo, ssk, yo, ssk, k1, k2tog, yo, k2tog, yo, k1.
Row 3:same as row 1.
Row 4:k2, yo, ssk, yo, slip 2 together as to knit--k1--pass the 2 slipped sts over, yo, k2tog, yo, k2.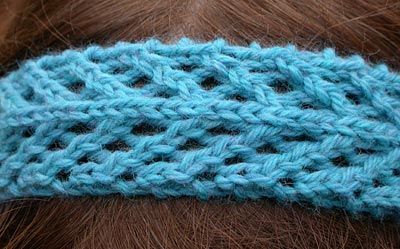 Pattern & images © 2006 Tamara Stone-Snyder.
May be distributed freely for personal use only. Cannot be reprinted on the web or otherwise without permission.