Looking for a quick knitting project to use up some leftover yarn? How about a simple lacy headband?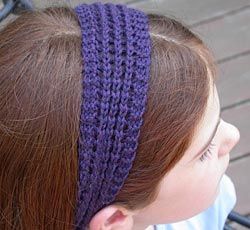 Pattern:

Saving Grace headband, a free online pattern by Dawn at Wild Yarn

Yarn:

Cascade 220 [100% wool],
color: 7811 (purple heather)

Needles:

US 7

Comments:

This was a great project -- super fast and easy, and yet quite lovely when done. The only thing I might do differently next time is to use a provisional cast on so I can kitchener the ends together and have no seam.
I made this headband for Daughter#1, and now Daughter#2 wants one as well. I'm happy to make more of these, since I have a whole rainbow of Cascade 220 that's just waiting for projects like this.
This pattern has inspired me to look through my stitch pattern books and find some simple lace patterns that might translate well to headbands. In fact, I found one that Daughter#2 likes, which I am currently working on. Pics of that soon.