Howdy! I'm back. My work should be over for a while so I should now have some more time to do things like reading blogs and posting to my own sadly neglected blog. I may not have posted much this summer, but I sure have been knitting. I've got a lot of FO pics to take and post about. Here are a few things to start us off.
First up, we have the Frost tank from Rowan 30. I made one of these last year for Daughter#2 (see pic in my gallery), but it was getting a little tight in the chest for her, so I decided to use up the rest of that yarn and make a bigger size. We passed the smaller one down to Niece#3 who seemed very pleased to receive it.
Daughter#2 and Niece#3 in their matching Frost Tanks.
Here they both are modeling their tanks which they wore to Tanglewood two weeks ago. We went to hear a violin concerto by Dvorak and Beethoven's 3rd symphony, but we got caught in the continuous POURING rain partway through the performance (we were sitting on the lawn). Luckily, we had raincoats and umbrellas ready, but still -- it was a drag. I got leg cramps from sitting all squished up under my umbrella, followed by a wet butt after getting up to stretch my legs and sitting back down again. Oh well, the music was great (particularly the violinist, Hilary Hahn) and we did get in a very nice picnic before the rain started.
---
Next up, remember THESE annoying socks from early July?. The ones where my gauge was completely and totally off? Well, I ripped them back to the ankle and knit the whole sock on the 2.5mm needles (with LOTS of trying on along the way).
What did I learn from this experience? Well, let's hope I learned never to ASSUME that just because you are using the same damn yarn and the same damn needles that you will get the same damn gauge. [You know, it's stuff like that that just sucks all the fun out of knitting.] Anyhow, here they are finally, on Sister#1's feet. She seems to like them.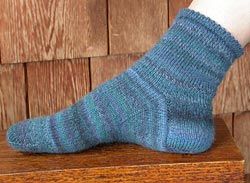 Trekking XXL, color 71, on 2.5mm ndls, with picot trim ankle.
---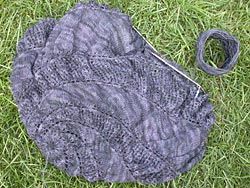 With regard to current projects, I am working on Meg Swansen's Super-Spiral Shawl from A Gathering of Lace. I'm using some laceweight yarn I got this summer from handpaintedyarn.com. It's their Kettle Dyed Pure Wool Lace Yarn in the color Paris Night, which is sort of a purplish-grayish color.
This is a circular shawl that's worked from the center out. In this picture you can kind of see the center (bottom left) with the spirals moving out from there. I love how it's coming out so far. Sure, it's super monotonous knitting, but that's what I needed for the summer. Something I could just pick up and knit, and knit, and knit, and knit, and knit without thinking about it. And this shawl seems to be the perfect project for that.
---
Oh, and I received by prize yarn the other day and it is WON-DER-FUL! That yarn in the upper right corner turned out to be Artyarns Ultramerino4 (as a couple of you guessed). Also, Melissa wanted to know the color nbr of the Lorna's Laces. It's #18, Watercolor. And, no, I'm not trading it. ;)
I have already almost finished a pair of socks with the Socks that Rock, and I am loving that yarn. I've also started some socks with the Knit Picks Simple Stripes. The yarn is a bit splitty, but I really like the colors. Hopefully, I'll have finished pics of those next time.
---
Well, that's it for today. I'll leave you with some pictures my garden (which I should probably go water).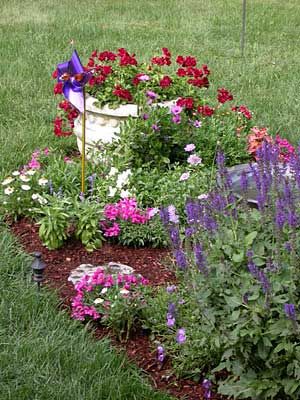 One final thought: Don't these flowers remind you of fried eggs?
---
Oops, one more final thought: I signed up for Sock Wars. I'll be on vacation in Maine that first weekend so I'm betting I get killed before I kill, but it should be fun anyway.