No, I didn't drown in the flooding, I'm just a lazy slug who doesn't blog often. No, really, I've been quite busy and every time I sat down to blog, something came up to interrupt my spare time. I've even been sucked back into my computer consulting work, although only temporarily. And now there is gardening to do. Anyhow, thank you for your patience, dear readers. I will try to post more regularly.
At long last, I present to you photos of my Lady E. stole that I finished almost a month ago. Feast your eyes on its lovely colorifitude.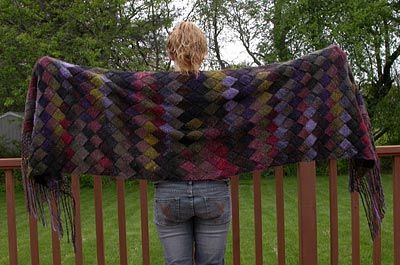 No, that tiny butt does NOT belong to me.
I finally got someone to model this for me. I am notoriously camera shy, and, anyway, it would be hard for me to take my own photo while wearing this. It can be a complicated business getting this thing to drape properly, or maybe I am just a stole-wearing novice.
My lovely model here is my about-to-become-a-high-school-graduate niece, aka Niece#1. She also goes by the alias Oh, Jane. when online. [I was instructed that I must include the period in her name -- and she says that I am anal.] She is starting her own blog to show off her artwork. She is super-talented and creative, so I can't wait to see more of her work, especially since I don't get to see her very often. If you go to her blog now you may still be able to see her temporary test post, which contains a picture of her at 8 years old, standing behind my daughters who were only about a week old. Too cute!
OK, back to the stole, here are the details:
Pattern:

Lady Eleanor Entrelac Stole, by Kathleen Power Johnson, from Scarf Style

Yarn:

Noro (boo, hiss) Silk Garden [45% silk, 45% kid mohair, 10% lambswool],
color: #217, about 12.5 balls

Needles:

US 7 or 8 [Crap, I waited too long to write this up and I, in my apparent early senility, cannot remember which needle I used)

Gauge:

about 4-4.5sts/inch (it's hard to tell from the stole). Anyway, my gauge was way smaller than the 3.5sts/inch in the pattern.

Size:

22" wide by 78" long, excluding fringe. Fringe adds about 13.5" at each end.

Modifications:

I did an extra 2 rectangles in width to make up for using thinner yarn than the pattern called for. I also did about a million rows of rectangles. [OK, I counted. I actually did 55 'tiers' of rectangles instead of the 35 in the pattern. It just felt like a million.]

Comments:

I enjoyed making this stole and I love how it came out. I have gotten over my crisis about the lavender. Learning to knit backwards really helped with my enjoyment of this project. If I had to turn the stole every 8 stitches, it would have been a huge drag.
Also, although I do LOVE the colors that apparently only Noro can provide (and why is that?), I will no longer be purchasing yarn from them due to my enormous frustration with the knottiness (naughtiness?) of their yarn. Four knots in one expensive ball is 4 knots too many. Don't worry, they will definitely be receiving an email from me on Yarn Rant Day (read the PDF about this here).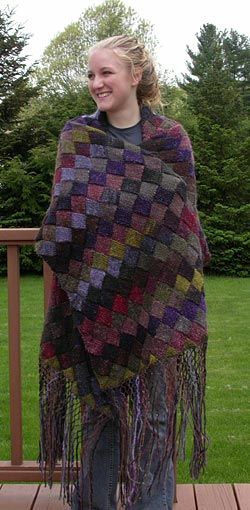 What a cute model. However, please note that she is much shorter than me. The stole does not come as close to dragging on the ground when I wear it.
In the book, they show this stole also worn as a scarf. I tried to do a shot like that and this is what I got.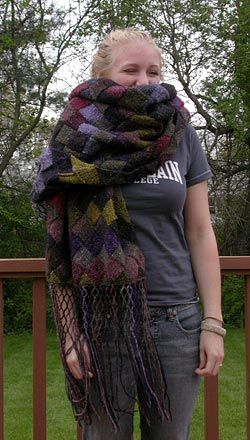 Ummm, not so good.
OK, I tried again (my model was getting a little sick of me by this time) and it kind of works as a scarf, but only if your neck is really, really cold.
No drafts can get near this neck.
Overall, I'd highly recommend this project. After the first few tiers of rectangles it becomes some nice mindless knitting. However, I suggest that you check out some alternatives to Noro Silk Garden, such as La Lana Wools Forever Random Blends (the yarn used in the book) or Karaoke by Southwest Trading Company. There must be other alternatives; please let me know if you find any.