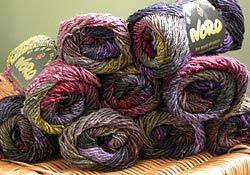 Look at what my Yarn Enabler, aka Melissa, has procured for me -- Noro Silk Garden in color 217. I just love these colors. And it is softer than I expected, too. But not cheap. No sirree, Bob.
This yarn is going to be used to make the Lady Eleanor Stole from Scarf Style. I've had my eye on this pattern for a while, especially after seeing this one at Fig and Plum. However, it was the gorgeous colors of Aimee's that made me take the plunge. I just can't stop looking at it -- I'm in looooove. So, I'm being a copycat and making it in exactly the same color. [Oh shush, I'll get back to Rogue eventually. Gotta go with the inspiration, right?]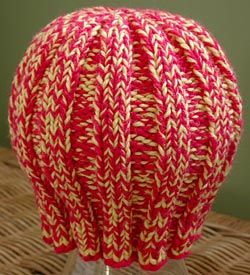 I've also decided to start knitting items for the Dulaan Project. It's an organization that collects items to send to impoverished children & adults in Mongolia, where the temperatures get down to -40ºF at night.
Here's a picture of my first hat to donate to this project. It's just a simple ribbed hat made with two strands of stash yarn.
I started this in desperation the other day when the rest of my family was sitting down to watch Zathura (really enjoyed this movie, by the way). I was in a panic -- frantically searching through my knitting bags (and the various piles of knitting that are distributed throughout my family room) for something easy to work on so I could concentrate on the movie. It was kind of funny actually, I was all like, "Wait, wait. Don't start the movie yet -- I can't find any knitting!"
I am such an addict. I can't just sit when I watch movies any more; I must be knitting. Otherwise I get so restless. My hands need to be busy so my mind can concentrate. This becomes an issue when I visit people who like to turn off all the lights when they watch movies (Hi, Sister#2).
Anyhow, easy hats and scarves make for good "movie knitting", so I'm going to try to keep some of these Dulaan patterns ready to go for movie nights here. I might try this Double-Thick, Super-Warm Dulaan Hat pattern next. It appears to be just a big tube which you fold in half and gather together -- an easy way to get extra warmth without the complexity of double knitting.