[Updated to add: Well, apparently my poll broke the dumb webpollcentral website. OK, maybe it was just a coincidence that I put up the poll and then the whole site went down for several hours. Anyway, it seems to be working again so if you tried to vote earlier and got an error message, try again now.]
I have a very large number of unfinished projects. They are stuffed in bags and boxes and are spilling out of the corners of my house. It has gotten so bad that although I own millions of needles it seems I can never find the size I need because they have been left in some abandoned project somewhere. And it is a huge pain to go digging through bags to try and track down some needles. Whenever I look at these bags of projects it just drags me down. It makes me feel like a quitter (hey, no snide remarks about my Olympic failure -- I heard that).
Anyhow, it was one of my New Year's resolutions to sort through all of these UFO's and finish those that were worth finishing and rip the others. (Don't even ask about my progress on Resolution #1.) Well, I have attempted to start doing this but I frequently become paralyzed with indecision as to whether to continue a project or not. For instance, look at this scarf: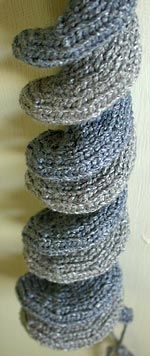 UFO #1:
The Ruffles Scarf from Scarf Style.
I am knitting it with Katia Firenze, in Grey Pearl (grayish blue) and Polished Pewter (silver). I used this yarn because I thought it would give the scarf a subtle sheen, but it is not really very noticeable.
The pattern shows this scarf knit in a single color, but the notes mention the two-color option as an alternative. I chose that option because I thought it would snazz the scarf up a bit. However, I don't think I like the way it's coming out. The scarf tends to clump into groups of two ruffles, which seems to be emphasized by the two colors.

The pictures here don't really show the clumping. I had to yank on the scarf pretty hard to even it out. I probably should have included a clumpy picture to give you a better idea of what it looks like without a lot of fiddling.
I have only completed about 12 inches of the scarf so far. The pattern gives a finished length of 86" so I guess I am less than 1/8th of the way done.
My concerns about this scarf are:
a) it might be ugly, and
b) I'm not sure that I would ever wear it.
So, since I am notoriously awful at decision-making, I would like your assistance in deciding whether I should continue with this scarf or not. Please help me out by voting in the poll below.
All lurkers are encouraged to participate (especially those whose names begin with an 'R'.)