Happy Valentine's Day, everyone. I'm running on very little sleep today, since I spent a lot of last night trying to install my new blogger template (more on that later).
Uncool Guy has continued his customary Valentine's Day generosity and has showered me with flowers (tulips) and candy. These are the most wonderful fruit jellies from the Harbor Candy Shop in Ogunquit, Maine. Man, are they good. Plum is currently my favorite, but that could change because they are all just so lovely. If you are ever in Ogunquit, be sure to stop in at this store -- it is a chocolate/candy lover's haven.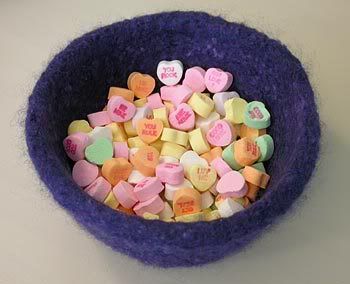 In knitting news, here is the completed bowl that I showed you the other day. It came out pretty well for my first felted item, I think. I had a little problem with the edge though. I kept stopping the washing machine every 5 minutes or so to check on the progress of the felting, and I didn't notice until it was too late that part of the edge had started to curl in. By the time I noticed it, the edge was already too firmly attached in some places to unfold it. So I tried to curl the rest of the edge all the way around and felted it some more. It sort of worked, but the edge came out lumpier than I would have liked.
I based this bowl on the mancala pattern at Knitty, but I doubled the yarn and used bigger needles. Here are the specs: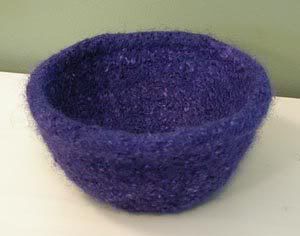 Pattern:

I followed the instructions for the Large Bowl in the Mancala pattern at Knitty

Yarn:

Manos del Uruguay [100% wool],
color: 38 (dark purple), which I got from Windsor Button last year

Needles:

US 15 (used with the yarn doubled)

Gauge:

who knows?

Finished Size:

3" high by 6" wide

Comments:

I felted the crap out of this bowl and it came out pretty thick and sturdy. Interestingly, the felted fabric seems to have a sort of "boucle" surface. I wonder if this has something to do with the fact that this is a thick & thin yarn. I'm guessing that the thicker yarn sections turned into the boucle "bumps" when felted. Anyway, it's a cool effect.

I shaped the bowl by stretching it tightly over a glass bowl. The bowl had slight vertical ridges on the outside and a sharply defined bottom ridge. It's funny that I can kind of see the ridges in the dried bowl and I can definitely see an indent from the bottom ridge in the bottom of the bowl. So next time, I'll have to find a different bowl for the shaping and drying.
[Updated to add: It has been brought to my attention that the bowl in the mancala pattern has an attached i-cord edge. I did not make an i-cord edge on my bowl, because I, apparently, cannot follow directions. Anyhow, I bet if I had made the i-cord edge, it wouldn't have partially curled in like it did. I'll try that next time.]
Oh, and Daughter#1 made this little shrinky dink tiger for me the other day. Isn't he cute?