Do you know what these pictures mean?


Why, it's a semi-surprise cowgirl birthday party for Melissa, of course.
Here's a picture of the birthday girl herself, contemplating the number of candles on her cake. Wait a minute -- aren't there a few missing?
It was a fun celebration of "all things Melissa", with great margaritas to boot. I discovered that I suck at Pictionary (or, at least, I suck at drawing chicken- and baseball-related clues).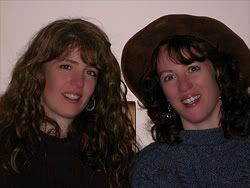 Daughter#1 managed to get a halfway decent picture of Sister#1 and me at the shindig. I'm the one without the cowgirl hat -- unlike Melissa and Sister#1, I'm not even a small part cowgirl.
For a laugh, go check out the funny picture of Daughter#1 caught eating wasabi peas at the bar.
In knitting news, I finished those Franklin socks for Melissa's book. I really like the yarn. It's not splitty at all, and it holds up great to lots of ripping (ask me how I know).
Here's a picture of the chutney color. It looks very different when knit at 72 sts (on the left) than it does at 60 sts (on the right). I really dig the diagonal flashing the yarn does when knit at 60 sts around. Too bad that size doesn't fit my foot. :(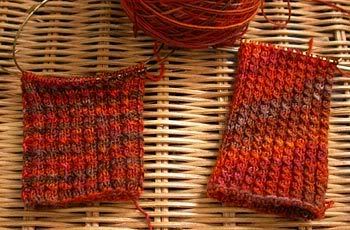 I have also finished a pair of Trekking socks for my dad's birthday. These are color 62, done on US1 needles. I'm getting a little tired of Trekking yarn -- these are my 7th pair, I think. Yet, for some reason I just started another pair of Trekking socks for Uncool Guy. He has recently put holes in two pairs of his handknit socks (these and these), so I need to whip out some more for him.
Here's another FO that I need to mail off to its recipient. It's a pair of handwarmers/fingerless mitts for Sister-in-Law#1. This pattern is from Interweave Knits Fall 2005, in the Yarn Spotlight section. The yarn is Peruvian Collection Sierra Aran, used with US8 needles.
This is the fourth pair of these I have knit (see the others here). It's about time I tried a different pattern, huh? Well, last year Sister-in-Law#1 saw the ones I made for Mother-in-Law#1 and decided to knit herself a pair. However, she did not finish them before she decided to give up knitting (SHOCKING -- yes, I know), so I told her I would finish them for her.
I have a lot of other finished objects to show, but right now I need to get away from this computer and ride my bike. I can feel my butt expanding as I sit here...