Well, I finally upgraded to the new Blogger, and I can see that it has caused some problems with my template. I'll be trying to fix those soon, so don't be surprised if this blog is a little flaky for a while. Also, I think it might be time for a blog design overhaul; it's looking a little cluttered around here.
---
So what have I been up to lately? Well, I finished these sample socks in Trekking XXL, color 69, for Melissa's upcoming book.
I'll be knitting another pair of socks for her, as soon as the yarn arrives on Monday. It's going to be Webs' new sock yarn, Franklin, which I am excited to try.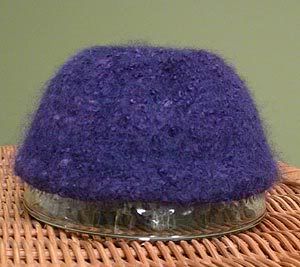 Here's something I just made today. It's my very first felted object -- a bowl made out of doubled Manos del Uruguay. It's really thick so it will probably take forever to dry, but I'll post another pic when it's done. I hope it comes out well because I've got a skein of almost-solid red Manos that I think would make a cute bowl, or maybe a little box.
---
Oh, and hey, check out what's in my personal knitting book library. I just created this list at Library Thing. If you have a list there, leave a link in the comments so I can check out what's in your library.
View my complete knitting book library here.