So, I finally got around to blocking the spiral shawl that I started last summer. I finished it sometime in the fall, but I was too lazy busy to block it until now.
All was fine and dandy, and I was feeling pretty proud of myself, until I stood back to admire it and whammo, I saw it. ARRRRRRGGGGGHHHHH! A big fat mistake!

Can you see it?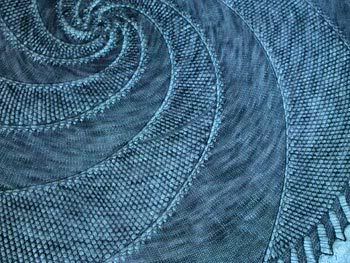 How about now?

Can you see it now?

Yep, there it is.

(rollover the image for a lovely highlighted effect)

I knit across one of the segments instead of doing the yarnovers!
At first I thought, "Well, maybe it's not that noticeable." I had Uncool Guy look at the shawl to see if he could find the mistake. He didn't see it. I directed his attention to the general area. He still didn't see it. I told him which segment it was in. Nope. (The man must be blind.) I had to point it out to him. That was encouraging.
However, I then located Daughter#1 and challenged her to find the mistake. (sigh) She found it within 10 seconds. (She's got a touch of the persnickety in her, that girl.)
Maybe you just have to be a knitter to see it. Anyhow, it bugs me and now it's all I can see when I look at the shawl. I'm hoping I can fix it by cutting the yarn, picking out the one offending row in that section, and kitchenering it back together with some added YO's and K2tog's. Sounds fun, huh? I'll have to test that very carefully on a swatch. (big sigh) But not anytime soon -- I'm just not up for it.
What a big fat bummer. Anyone have any other ideas?