It has been a difficult week here at chez Persnickety. My children have been hit by whatever bad cold and/or respiratory flu has been going around. They are well on the road to recovery now, but who knew two sick nine-year-old girls could be so dramatic in their illness? Yes, I've been a sympathetic mommy, but after 5 days of stereophonic coughing, sniffling, moaning, whining, and arguing I think need a vacation.
On a happier note, I have finished the Bearfoot socks that have been sitting in my UFO pile for almost a year. Here are the specs:
Pattern:

These are just basic stockinette socks, made without a real pattern.

Yarn:

Mountain Colors Bearfoot [60% superwash wool, 25% mohair, 15% nylon],
color: Rosehip

Needles:

2.5mm Addis

Gauge:

7.75-8sts and 10.5 rows = 1"

Comments:

I just love the color of this yarn and its softness. It seems a little thicker than other socks yarns I've been using lately, but it's nice because the socks came out thick and warm (maybe that's due to the mohair content?). I'd like to make another pair of socks with this yarn, but maybe with some texture next time.
The only interesting thing on these socks is that I used the Eye of Partridge stitch on the heel flap. This was my first time using it and I think it's a keeper, especially with variegated yarn. It's basically the heel stitch, but with the slipped stitches offset on every right-side row to form more of a checkerboard look (compared with the columns look that you get with the normal heel stitch.)
Here is a chart I created for the Eye of Partridge stitch, in case any of you are unfamiliar with it and want to give it a try. Apparently there are variations of it, but this is what I used.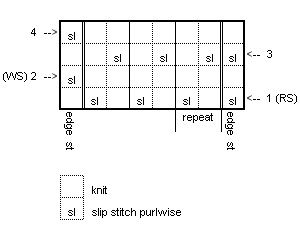 So now the only unfinished socks I have are my Jaywalkers, and I'm not really motivated to work on those. Maybe I'll start another stranded pair. Hmmm.
And last but not least, I just finished the afghan square I volunteered to make for Christine. She is collecting blue 8"x8" knitted squares to make a blanket for her brother Jef who is battling a recurrent brain tumor. Go on over and help her out if you have some time.
I made this square with some unnamed blue wool from my stash. I used a modified version of the Forbes Forest Scarf pattern.
Oh, and Sister#2, don't worry. I'm still working on your cloche. More about that next time.