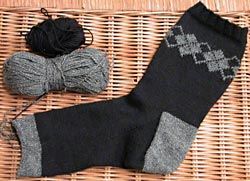 Olympics? What Olympics?

Here's what I've been working on lately. The argyle socks that I promised my Dad exactly one year ago. [How's that for turnaround time?] This is the 2nd sock. All I have left to do is adjust the toe a little. Then I will be DONE. Just in time for my dad's birthday.
These will be my dad's first pair of handknit socks. I hope he enjoys them. I'm just glad they are done. They've been causing me guilt for too long.

After seeing the pictures of Eunny's mini-argyles, I am really tempted to try something like that. I will try to restrain myself and remember that I have two other pairs of socks waiting in the wings to be finished (but what fun is that?).
In other news, Sister #2 will be quite happy to see this picture.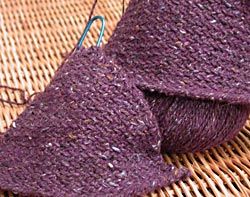 That could only mean that -- I've finally started her hat. Yay! [She's been soooo patient.]

It's going to be the Herringbone Cloche from Vogue Hats & Caps Two. I'm using Rowan Felted Tweed. I really like the color of this yarn with all the cute little fleckies in it. However, I'm not sure about this hat pattern...
The pattern has you make 3 triangular shapes for the crown, then sew them together and pick up stitches all around for a brim. That's fine, except the dimensions of the hat given seem kind of small (20" around and 6" deep (w/o brim).
My gauge is off, which I discovered by knitting the first triangle above. I did some calculating to figure out what size these triangles are supposed to be (based on the given gauge). Then I calculated how many sts & rows I'd have to do to get the right size triangle. That's where I'm at right now. After I finish one of these correct-sized triangles, I will have to determine if three of these things will really make a properly fitting hat. I am having major doubts.
That said, I am loving this herringbone stitch pattern. It's got great texture, and it's not stiff at all. Very slow going though. And if you make a mistake -- look out. Big pain to rip back here.