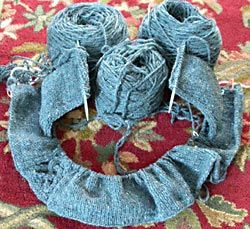 Olympic Knitting Update: Two sleeves of my Rogue cardigan completed, body started, currently knitting the pocket area.
It took me a whole evening to cast on for the body and make the hem with my stupid new method. What a drag that was. This yarn is kind of fragile when split and therefore it broke a couple times while picking up all those hem stitches. Also, I am no longer convinced that this hem is deep enough to keep the edge from flipping up. Well, at least the hem is finished and I won't have to sew it up later.
Last night I knit the pocket area, which was mildly confusing with the cardigan modifications. You can see the pockets sticking up from each end of the needle in the pic above.
I have to say, I am not enjoying knitting with this yarn. It's kind of rough (almost crunchy?) and doesn't run through your fingers smoothly. It has a lot of natural oils left in it and after knitting for a few hours my hands smell sheepy and feel gross -- like I've been touching someone's greasy hair. Ick. But the color -- I'm still loving that. And my washed swatch did feel nice, so I'm not giving up hope yet.
However, the roughness of this yarn, combined with all the cables and stitch picking-up and whatnot, is wreaking havoc on my hands. Last night I started getting wrist pain so I decided it was time to give this project a rest for a couple days.
Instead, I was craving a simple knit. . . Something with soft yarn. Something knit in the round, in all stockette. Hmmmm . . . I know, those stupid argyle socks!
Well, I dug them out and I've been cranking along on them quite happily. I've decided I need to keep one easy stockinette project going as a way to rest my hands (cuz you know I can't just not knit). I'm hoping to finish sock number one tonight. That will make my dad happy since I promised these socks to him almost a year ago (pathetic, I know).
Hey, guess what today is?
Why it's my knittiversary. Three years ago today, I was taught to knit by my mother-in-law. I was hooked immediately. In fact we went to the craft store that day and I bought some cotton yarn and a book of knitted dishcloth patterns. I was so excited that I cast on for my first project right away. I knit during the entire two-hour ride home from my in-laws' house. And I created..... THIS:
My first knitted object -- isn't it lovely?
Ummm, no.
It used to be yellow, blue, and white but is now dingy from use. Still, you can see the hallmarks of a beginner's knit: the cast-off that is much tighter than the cast-on, the basket-weave pattern that gets accidentally reversed 2/3 of the way up the dishcloth, the crappy weaving-in of the ends. This dishcloth needs to be put out of its misery.
Anyhow, thank you, Marcia, for introducing me to the wide and exciting world of knitting. I am eternally grateful.