Want to know what I did until 3:30AM last night? No, I was not dancing the night away. Nor was I watching an exciting trilogy on DVD, or reading an engrossing novel. Nope, I was making a million little knots in this darn thing.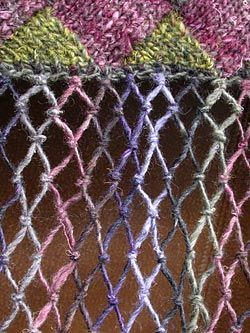 Knotted fringe takes FOR-EV-ER.
Making 8 rows of knots on each end of my Lady Eleanor Stole took me about 6 hours! And that doesn't include time spent crocheting the edges (then ripping it out and doing it over, and over, and over yet again). Granted, I did make an extra row of knots (can you say "masochist"?). And I did waaaaaaay more strands of fringe than stated in the pattern (but my yarn is thinner and it looked too wispy when spaced wider). But still, making knotted fringe is a slow business. I knew there was a reason I was putting it off.
I just have weave in some more ends and trim the fringe, and then I'll do the final photo shoot. Maybe I'll even have an opportunity to wear it in a couple of days on our child-free weekend getaway to Newport, Rhode Island this weekend. Hey, does anybody know of any good yarn stores in that area?
---

Oh, and here is a preview of the socks I am making with the handspun yarn I won in Anne's mystery cable contest. I LOVE the way the colors are blending. So very lovely. And not a knot to be found ;)
I'm almost done with these socks, so more pics soon. [Yeah, right. I always say that and then I take forever. Sigh.]