Yeah, I know -- YESTERDAY was Flash Your Stash Day. But I am slow, and perpetually late. It took much longer than I anticipated to unload all my yarn bins and stack all this yarn so it would fit in the picture. I initially tried to do a 360 degree photo, but that was kind of a disaster. Hence the lateness.
Anyhow, I have yarn here that is designated for 16 sweaters, 9 tank tops, 1 shawl, and at least 20 pairs of socks. The rest is random balls to be used for hats, scarves, mittens, stuffed animals, and other miscellaneous projects. Some of this (mostly the left corner) is destashification from someone else, so I really can't be blamed for all of this.
Here is the stash. Click on the picture for a bigger view.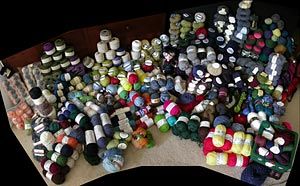 I know what you're thinking, "That's not very big." Yeah, that's what I thought. So I just got this load of Cascade on sale from WEBS (thanks Yarn Enabler.)
Oh, and I AM still planning on posting the short-row information. It's just turning into a bigger project than I expected. I'm going to have to break it into smaller pieces. I'm thinking of covering all the various types of short rows, each in the context of short-rowing down and then having one 'long row' to join everything back up (like in a shoulder) and in the context of a miter where you short-row down and then long-row out (like a sock heel).
Now I'm off to reorganize my yarn.
Updated to add: Talking Edna says, "Dahling, your stash is fabulous." Ten points if you can find her in the picture. ;)