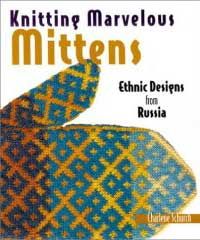 A few weeks ago, I bought this book Knitting Marvelous Mittens by Charlene Schurch. I was inspired to buy it after seeing the some great Komi-patterned mittens, socks, and hats on various blogs a while ago.
I love most of the patterns in this book, but since it is no longer "mitten season" around here (and no one I know is much of a mitten wearer anyway), I've been looking for other places to use these great patterns. Daughter#2 had been telling me how she wanted a knitted bag and she loves the color blue, so when I came across two skeins of blue wool when I reorganized my stash (which, I have to say, was spread all over my bedroom floor for much longer than I'd like to admit) I decided to use one of the Komi patterns in this book to make a bag for her. And here it is:
Pattern:

The design of the bag is based on the Gift Bag pattern in Handknit Holidays, but the color pattern is from Knitting Marvelous Mittens (it's part of mitten #8)

Yarn:

Two skeins of worsted-weight wool yarn from my stash.
I really like this yarn. It is 'au naturel' without being all greasy and gross like some other stuff I've used recently. Annoyingly, it was unlabeled so I can't get more of it. I think I may have bought it a few years ago at Plimoth Plantation. I couldn't find any mention of yarn in their online gift shop though. They do have a pattern for 17th Century Knitting Stockings and Socks though. I must admit -- I'm tempted.

Needles:

US 8

Gauge:

19st and 21rows = 4" in stranded 2-color knitting

Size:

About 7.5" in diameter and 11.5" tall

Modifications:

I modified the size of the bag to fit three repeats of the Komi pattern. I also changed the method of decreasing on the bottom of the bag to give a more circular bottom. The Gift Bag pattern has you decrease in the same five spots, which results in a pentagonal bottom. I moved the decreases each round to get a smoother circle with less defined sides and no decrease lines. (Darn, I should have taken a pic of the bottom. Oh well, this post has too many pictures already).

Also, when it was done, I used my new crochet skills (oooh, how exciting) to chain an edge around the bottom of the bag. This hid the little purl bumps from the 'turning round' and gave it a more finished look, I think.

Comments:

I used this method for dealing with the color-jog at the end of a round. I moved my end-of-round-point around a little to keep it in the middle of a light blue section, which worked out pretty well. I have to look pretty hard to find the end of round points in the finished bag.

I really like this Gift Bag pattern. The bags are fun to make and they are a great way to try out color-knitting patterns on a small scale project.
This is actually the third Gift Bag I've made. I made two others out of Cascade 220 and gave them as Christmas gifts (see them in my gallery). This bag came out somewhat sturdier than those, possibly due to the more rugged nature of this yarn.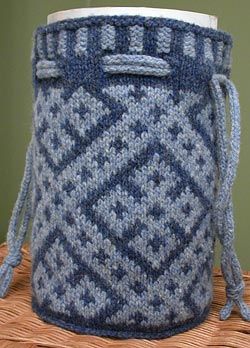 Here is a picture of the bag on its makeshift blocking tube, so you can see the full patttern.
And here is the inside of the bag. I think I like the pattern better this way -- with the dark and light colors reversed.
I'm off to see the Harlot at WEBS tomorrow. That will probably be a zoo. Another two-hour road trip and I've got nothing good to work on. Uggh, I may have to pull something out of "Time Out" in desperation.