The UPS guy had a package for me today, and, since I haven't ordered any yarn lately, you know what that means... I'm dead.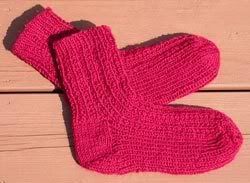 Socks of Doom received from my assassin, Mlle Udah
So, no more Sock Wars for me. Too bad, it would have been fun to kill more than one person, but with all the international mailing involved there was just no chance of that. Although this game was fun, I think the downside was that no matter how quickly you knit your socks it could not save your life. It was just luck of the draw as to whether you got a fast assassin or a slow assassin assigned to you.
I think it would be fun to have another sort of sock war where knitting a sock quickly would actually SAVE your life. I'll have to give that some thought...
---
In other sock-related news, here is a pair of socks that I finished recently. I made them with the Socks That Rock that I won in the Sock-a-Month KAL. Here are the specs:
Pattern:

just a run of the mill top-down sock, but inside out

Yarn:

Blue Moon Fiber Arts, Socks That Rock, mediumweight [100% superwash merino],
color: Farmhouse

Needles:

US 2

Gauge:

7.5 sts/inch

Comments:

This was the first time I've used STR yarn and I have to say, I can see what all the commotion is about. This yarn is great. Very boing-y and soft. I wonder how it will hold up to wear though? It seems to be getting fuzzy rather quickly.
You may be wondering why it looks like my socks are inside out. Well, that's because they are. I decided I liked the way the colors mixed better on the reverse stockinette side of the sock, so I decided to make that the outside. I knit them normally (with the knit side out) and just turned them inside out at the end before weaving in the ends. All I did differently was to pick up the stitches on the sides of the heel flap as to purl instead of as to knit.
Which do you like best: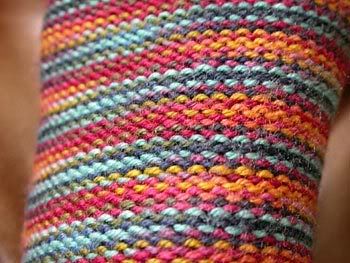 the interesting reverse stockinette side,
or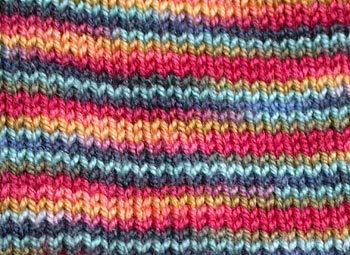 the boring old stockinette side?
There was a bit of color pooling with this yarn at the ankle (as you can see in this picture) but it doesn't really bother me very much.


Oh, and by the way, my index finger seems to be better now. Yay, back to knitting.