Want to see what I've been knitting lately? Well feast your eyes on this:

Oooh, pretty.
Can you guess what it is?
Well, when you knit a lot of socks, you invariably are left with lots of leftover sock yarn. And what do you do with all of those tiny little balls? [No you don't throw them out! Who said that? You should be ashamed.] No, you use them. You knit something like this: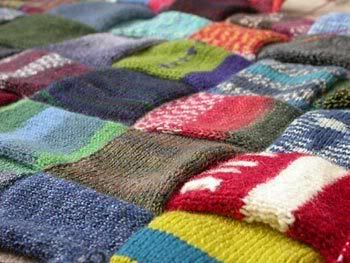 It's a Leftover Sock Yarn Afghan.

It's colorific.
The plan is that I will knit one block on this afghan for each pair of socks I have ever knit. Since I give away a lot of the socks I make, this will serve as a nice little memento for me. The problem with my plan is that I have no yarn left from several pairs of socks. That bums me out. Maybe when those particular socks die (I officially hate to darn socks), I will unravel some yarn from their ankles and use it to make a block. We'll see.
Anyhow, as of this morning, I have knit 43 blocks. My current sock quota is 61 pairs, so I've got some more blocks to go before I catch up. Also, clearly, it will be a loooooong time before this thing is big enough to actually use as an afghan. Guess I better knit some more socks then. ;) [Do you see a cycle here?]
I'm knitting the afghan in entrelac (so no seaming, yay!), with each block consisting of 24 sts and 47 rows. Since I've knit socks from many different weights of yarns, from aran-weight to very thin sock yarn, I've had to mess around a bit with various needle sizes to get the blocks to come out roughly of equal size. I divided the plies of the aran- or worsted-weight yarn to use only half of its thickness. The DK yarn I knit fairly tightly. The fingering-weight yarn I knit at varying degrees of looseness (mostly looser than I would for socks). I'm going for an approximate gauge of 7.5 sts/inch, which is giving me a block size of approximately 3 x 4 inches. It's going to take some serious blocking to get this afghan to lie flat, but I did a little trial steam-block (love that Scunci steamer) and it seemed to work fine.

The trial steam-blocked section is on the left side of this pic -- nice and flat.
I haven't yet decided what kind of edging I should do (since that step is far off), but I'm thinking it will be black. Does anyone have any suggestions?